"Blue Gramma/ Mosquito Grass"
Zone 4
Container Size: IMPACT Perennial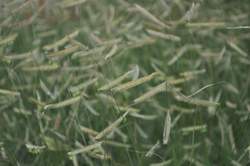 Clumps of green foliage give rise to stiff stems in summer that bear distinctive chartreuse seed heads that age to tan. The unique seed heads hang from one side of the stem are produced on taller stems that rise up to 2 1/2'. Easy to grow in average, well-drained soil.