"Mexican Feather Grass"
Annual
Container Size: 4.5" Annuals, Succulents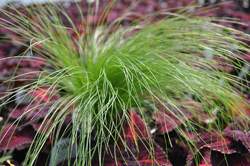 Delicate, thread-like, green leaves create a delicate texture in the garden. The clumps are light and airy and flow gracefully in the breeze. Useful in providing soft texture to patio containers as well as the garden bed. In ideal conditions of well-drained soil, water, and sunlight plants have been known to be invasive outside of their native range of Texas and New Mexico.